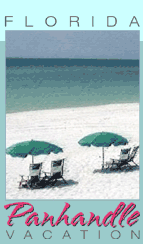 The Official Online Vacation Guide For The Emerald Coast,
Ft. Walton Beach, Pensacola, Panama City, Destin.


PENSACOLA - Overview of the city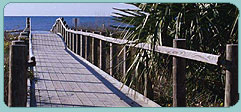 Pensacola - From its beginning, the city was important to the military of whichever nation had control at the time, and some of that military history is preserved in sites such as Fort Barrancas and Fort Pickens.

The military continues to be a strong presence. Pensacola Naval Air Station is home of the U.S. Navy's Blue Angels flying team, and also is often referred to as the "cradle of naval aviation" for its role in training military aviators. Its museum is a draw for visitors interested in military history.

The city's proximity to miles of beautiful coastline makes it especially attractive to beachgoers. Pensacola Beach, connected to Pensacola by two long bridges, is framed by turquoise waters and white sand beaches. The Gulf Islands National Seashore keeps beaches accessible to the public and preserves the area's environment.
Things to do

Big Lagoon State Park (12301 Gulf Beach Highway; Pensacola; 850-492-1595; dep.state.fl.us/parks) is a coastal park with 712 acres of sandy shoreline and salt marshes. An observation tower provides a panoramic view of the Big Lagoon, which borders the park, and nearby Gulf Islands National Seashore. The park is open from 8 a.m. to sundown daily and offers swimming, boating, fishing, hiking and camping. Admission is $3.25 per vehicle.

The Gulf Islands National Seashore (850-934-2600), which includes about 150 miles of coastline in Mississippi and Florida, offers seven miles of white-sand beach. The Opal Beach day area has 20 picnic shelters, showers and restrooms. There are also nature trails. To find national seashore areas, drive east along Via De Luna or west along Fort Pickens Road just beyond Pensacola Beach. The entrance fee ($6 per vehicle) is good for a week.

The Pensacola area also has more commercial family-friendly public beaches to enjoy. Casino Beach at the southern end of Pensacola Beach Road, has showers, picnic tables and, during the summer, lifeguards. West of Casino Beach, on the south side of State Road 399, is Fort Pickens National Park, which has showers and picnic tables but no lifeguards.

The National Museum of Naval Aviation (1750 Radford Blvd., Naval Air Station, Pensacola; 850-452-3604; naval-air.org) displays more than 140 restored aircraft. The museum also features aviators' memorabilia. An adjoining ImaxTheater shows aviation films. Museum and theater hours are 9 a.m. to 5 p.m. daily. The museum has no admission, but theater prices are $5.50 for adults, $5.25 for seniors, military and children ages 5 to 12.

Also on the ground of the Naval Air Station is Fort Barrancas (850-455-5167). The fort sits on a bluff overlooking the entrance to Pensacola Bay. During the Civil War, it was occupied by Confederate troops. Hours are 9:30 a.m. to 5 p.m. daily April through October, and 8:30 a.m. to 3:45 p.m. daily November through March.

Another historic site, Fort Pickens (Gulf Islands National Seashore; 850-934-2622), was occupied by Union troops during the Civil War. When construction was finished in 1833, it covered seven acres with more than 100 cannons mounted on and inside the walls. It is now part of the Gulf Islands National Seashore. Hours are 8 a.m. to sundown. There is no admission to the fort but entrance into the seashore is $6 per vehicle.

Pensacola's past comes alive at Historic Pensacola Village (P.O. Box 12866, Pensacola; 850-595-5985), a unique complex in the heart of the Seville Historic District that includes museums, historic homes and a Colonial Archaeological Trail. Inside the historic village is the T.T. Wentworth Jr. Florida State Museum, which houses a collection of artwork, artifacts and antique photographs. Also at the museum is a hands-on Discovery Gallery for children, which re-creates a child-sized schoolhouse, jail and hospital. Hours are 10 a.m. to 4 p.m. Tuesdays through Saturdays. Admission is $6 for adults, $5 for senior and military, and $2.50 for children ages 4 to 16.

Where to eat

Pensacola offers a potpourri of restaurants. Here are some:

McGuire's Irish Pub (600 E. Gregory St., Pensacola; 850-433-6789; mcguiresirishgifts.com) is a Gaelic-style tavern famous for steaks and the more than 225,000 dollar bills tacked to its ceiling and walls. The restaurant serves food from 11 a.m. to 11:35 p.m. daily.

Jubilee Restaurant & Entertainment Complex (400 Quietwater Beach Road; Pensacola Beach; 850-934-3108; www.jubileefun.com) offers two dining options. Topside Restaurant gives guests pampered service with a water view while serving dishes such as softshell crabs, steaks and smoked gouda shrimp. A more casual eatery downstairs is Beachside Cafe, which offers barbecue and deli sandwiches. Topside hours are 6 to 10 p.m. Mondays through Saturdays. Beachside hours are 11 a.m. to 10 p.m. daily.

The Screaming Coyote (196 N. Palafox St., Pensacola ; 850-435-9002; goodgrits.com) serves a variety of tacos, burritos and salads in a casual atmosphere. Hours are 11 a.m. to 9:30 p.m. Mondays through Thursdays and 11 a.m. to 11 p.m. Fridays and Saturdays.

Jamie's Restaurant (424 E. Zaragoza St., Pensacola; 850-434-2911) in the Seville serves choices such as smoked salmon and roasted veal chop. Hours are 11:30 a.m. to 2 p.m. and 5:30 to 9 p.m. daily, except Sundays.

Where to stay

Visitors to Pensacola can find lodging in the familiar hotel chains, but they can also stay at a posh hotel or a historic bed and breakfast inn. Here are some to consider:

Pensacola Grand Hotel (200 E. Gregory St., Pensacola; 850-433-3336; pensacolagrandhotel.com) is a great choice for railroad fans. The hotel lobby is a restored railway station concourse, complete with old railway signs and a ticket counter. The hotel, in the historic Seville district, has 212 rooms and suites. Room rates start at $135.

New World Landing (600 S. Palafox St., Pensacola; 850-432-4111) is only two blocks from Pensacola Bay. The two-story inn has 14 rooms and one suite. Room rates start at $70.

The Yacht House Bed & Breakfast Inn (1820 Cypress St., Pensacola; 850-433-3634; yachthouse.com) has nine rooms decorated with international and nautical themes in three houses on half a city block. Four rooms have hot tubs. Room rates start at $85.

Noble Manor Bed & Breakfast (110 W. Strong St., Pensacola; 1-877-598-4634; noblemanor.com) is a 1905 circa Tudor Revival style home in the historic North Hill District. The lodging has four guest rooms, each with a private bath. Also on the property are a swimming pool and two hot tubs. Room rates start at $69 per night.

Just a five-minute walk from downtown is the Pensacola Victorian Bed & Breakfast (203 W. Gregory St., Pensacola; 1-800-370-8354; pensacolavictorian.com), a Queen Anne mansion that once belonged to a sea captain. The inn has four rooms. Rates start at $75.

Information

For more information on Pensacola, contact the Pensacola Convention & Visitor Center (1401 E. Gregory St., Pensacola; 1-800-874-1234; visitpensacola.com), or Pensacola Area Chamber of Commerce (117 West Garden St., Pensacola; 850-438-4081; www.pensacolachamber.com).

By Carrie Alexander
Orlando Sentinel staff writer